Mumbai based PR agency for logistics and supply chain industry
Umanshi Marke ting and its team has worked with over 30 logistics and supply chain companies across India and internationally for their PR requirements. Logistics has a highly commoditized sector and moreover a laggard in adopting the latest marketing and PR initiatives except for a few international or leading supply chain companies or the new-age logistics companies. This coupled with the initiation of New Logistics Policy has led to a great opportunity for PR for this sector.
At Umanshi, we boast of undertaking PR for logistics, supply chain (3PL/ 4PL) and green logistics companies including new-age/ digital logistics companies
Here is the list of a few our logistics and supply chain clients:
Jeena Logistics, since 1900 specialising in freight forwarding, customs clearance, 3PL, reverse logistics & pharma logistics​.

Leeladhar Pasoo Group, since 1919, a revered logistics group of India with integrated services across customs clearance/ CHAs, freight forwarding, smart warehousing, consolidation, etc.

Leeladhar Pasoo, Logiscience, a logistics SME offering grade A, 3PL & 4PL services with special emphasis on sustainability in warehousing and transportation.

Parekh Integrated Logistics (PISPL), one of the leading 3PL players in India.

Celcius Supply Chain, digital logistics series A funded startup, India's first coldchain marketplace offering primary, secondary and last mile logistics along with warehousing and hyperlocal logistics. 

Givven Logistics, Chennai based digital logistics startup offering ocean freight, air freight, contract logistics, CHAs, ODCs and transportation with large movements in renewable logistics/ green logistics.

Safetrans Multimodal based in Kutch, Gujarat deals in logistics for industries such as

Iron & Steel, Chemicals & Adhesives, Construction & Infrastructure, Heavy, ODC, Agro products, Cosmetics, Lifts & Elevators, etc .

Freightwalla, a digital logistics series A funded startup specializing in ocean freight and a subsidiary of Bhatia Shipping.
Why Umanshi PR for your Logistics/ Supply Chain Company/ Startups?
In-depth sectoral expertise, our founder is Ex AllCargo Logistics, India's largest integrated logistics company, ECU-Line/ ECU Worldwide, world's largest LCL company & Emiza Supply Chain (3PL & last mile B2B deliveries).

Award winning agency: winner of best startup marketing agency 2022-23 by Bharat Startup Awards in association with SME Council of India.

Result Oriented PR strategies

Brand building

Fund raising

Go-to-market

Thought leadership

Category Building

Marketing and sales

Community outreach

Media advocacy
Types of media coverages and PR outputs for logistics and supply chain companies
1. Press release – Parekh Integrated Logistics (PISPL)

2. Feature stories – Jeena Logistics – ET Panache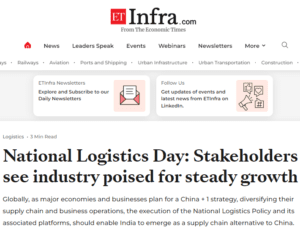 3. Interview – Celcius – ET Infra

4. Authored article – Varun Gada in FE

5. Content writing – Givven

6. webcast – Cargo talk Jeena Logistics

7. Speaker opportunities – Jeena Logistics 

8. Awards identification and shortlisting – ET inspiring Indian – Celcius Logistics

9. Speaker opportunity – Celsius Logistics

10. Events participation – Celsius Logistics

1. Start-Up Awards 2023 – Entrepreneur

2. India's 10 Best Cold Chain Service Providers 2023 – The Industry Insight
3. Leaders of Tomorrow Awards- ET NOW

4. Company In Focus 2022 – Entrepreneur Insight

5. Innovation in Technology for Logistics Supply Chain 2022– ET Inspiring Indian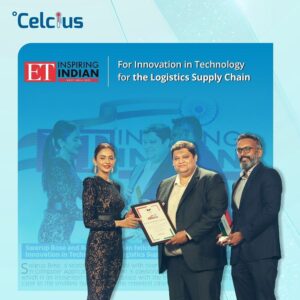 6. Promising Entrepreneurs of India 2021- The Economic Times

7. Logistics Startups 2021 – Industry Outlook

Umanshi PR's services for logistics and supply chain industry

Methodology driven PR approach 

Our PR Case studies for logistics and supply chain industry
PR Case Study 1
Celcius Logistics: Strategic visibility for investor advocacy and building Thought Leadership
About Celcius Logistics: Series A funded Celcius Logistics is a Saas-based tech platform that is redefining the cold supply chain market place. (100 cr funding news article)  
Umanshi PR's mandate 1: enhance brand visibility across investor and various stakeholders ie client communities.
Umanshi PR's mandate 2: establish Celcius Logistics as the thought leader in cold supply chain across the country.
Umanshi PR's strategy: 
Structuring a strong positioning platform that could well shape-up to be an IP for them – The Unbroken Cold Chain (UBCC); which gives a high-point to the brand. 

We also carried forward their positioning across through a gamut of PR strategies such as
                         a. Product PR – Celcius hyperlocal media coverage in 200+ coverages nationally 
                         b. Funding PR – Celcius raises 100 cr media coverage in 90%  category A coverages including broadcast
                         c. Geography PR – Celcius expands to 4 states and 11 cities media coverage in ZZZ
                         d. Social impact PR – Positioning it as the one trying to fight food wastage